Overwatch 2's new k-pop collaboration skins were teased in the trailer for K-pop group Le Sserafim's upcoming music video. The trailer shows brief snippets of skins for five Overwatch 2 heroes.
Blizzard announced the collaboration between Overwatch 2 and Le Sserafim on October 18, revealing upcoming events for both fans of the group and the game to look forward to. Le Sserafim's Overwatch 2-themed music video releases on October 26, while the in-game event arrives on November 1st. Additionally, Le Sserafim will be making an appearance at BlizzCon 2023 on November 4.
Overwatch 2 Le Sserafim skins revealed
Le Sserafim posted the teaser for Perfect Night, their upcoming single featuring Overwatch 2, to YouTube earlier today. The trailer opens with the Le Sserafim girls getting ready for a show and then shows Brigitte and D.Va preparing to go somewhere as well. Later, the trailer shows Brigitte, D.Va, Kiriko, and Tracer riding in a bus each wearing their new skins. There's also a fifth hero seen riding a motorcycle, but they're wearing a helmet, so it's unclear who that could be.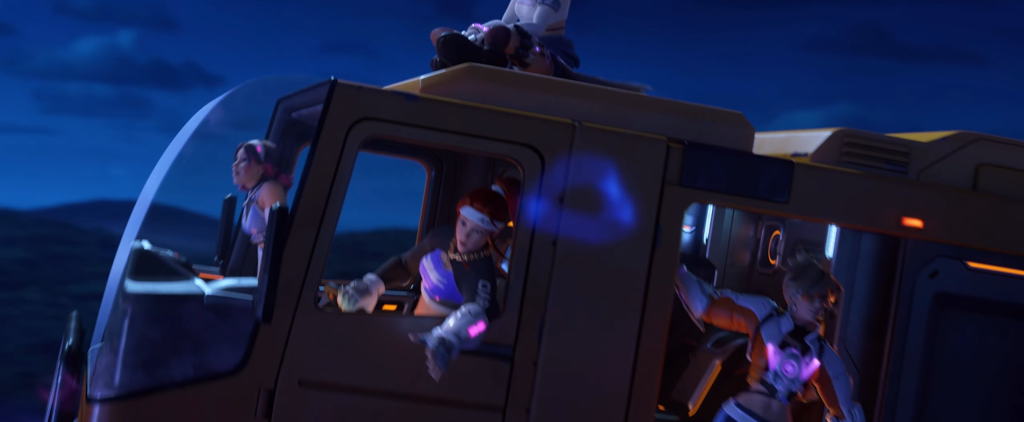 We can see Brigitte wearing a ponytail with two side braids, a headband that says ADF, a purple crop top, and a gold lightning chain. Tracer is seen wearing a white and orange bomber jacket with blond hair. Kiriko's outfit looks like a white long sleeve shirt with headphones, and D.Va is wearing a purple tank top with a shorter hairstyle than we're used to seeing her in.
In addition to the hero skins, the trailer shows a set of Le Sserafim tickets fanned out on a table. The way that they're set on the table could imply the tickets being Kiriko's healing ofuda for her new skin.
Overwatch 2's Le Sserafim event will arrive in the game on November 1. In addition to the new legendary skins, the game will also get a new Le Sserafim-inspired game mode and new in-game items and collectibles.