Final Fantasy 14's London Fan Festival reveals the game's new job class and more details for the upcoming Dawntrail expansion. Final Fantasy 14: Dawntrail is set to release in Summer 2024, but some of these updates will be made available before the expansion drops.
The London Fan Festival began on October 21 and will end on October 22. The developer's took the event's first day to announce several upcoming features to the MMO including the new job class, several collaboration events, and more.
Final Fantasy 14's New Job Class
Final Fantasy 14 Dawntrail will introduce a new DPS job to the game called Viper. Square Enix showed a sneak peek of Viper gameplay in a trailer posted to the Final Fantasy 14 Twitter/X account.
The trailer shows a character in a decidedly Assassin's Creed-esque outfit wielding blades that switch between being separate dual wielded blades and being connected to create one long blade. "Vipers dual wield twin blades to pressure enemies with swift strikes and deal mighty blows with their joined blades" said Final Fantasy 14 on Twitter/X
Deep Dive into Dawntrail's locations and dungeons
Square Enix revealed a few details on some of the new locations arriving in Final Fantasy 14: Dawntrail back in July, but now we finally have in-game footage of the upcoming towns and player hubs.
An in-depth trailer of the town of Tuliyollal showcases the town's various areas, each containing lots of palm trees and plants. Tuliyollal will serve as the player hub for Dawntrail.
Additionally, the developer released a trailer for a couple of the surrounding zones: Urqopacha and Yak T'el. The settings vary from forest areas filled with tall trees, to a mountain-side savannah-like area.
We also got screenshots and artwork for the jungle area of Kozama'uka, the deserts of Shaaloani, a few of the upcoming dungeons in Final Fantasy 14 Dawntrail. The dungeons look to vary between nature-filled areas to very high-tech locations, possibly hinting at the types of enemies players can expect to fight against.
New Allied Tribe in Final Fantasy 14: Dawntrail
Final Fantasy 14: Dawntrail will introduce the new allied tribe known as the Moblins. Anyone familiar with Square Enix's previous MMO, Final Fantasy 11, will be familiar with Moblins, as they're a creature derived from that game. In fact, the Moblin art shown for Dawntrail looks almost identical to the creatures from FF11.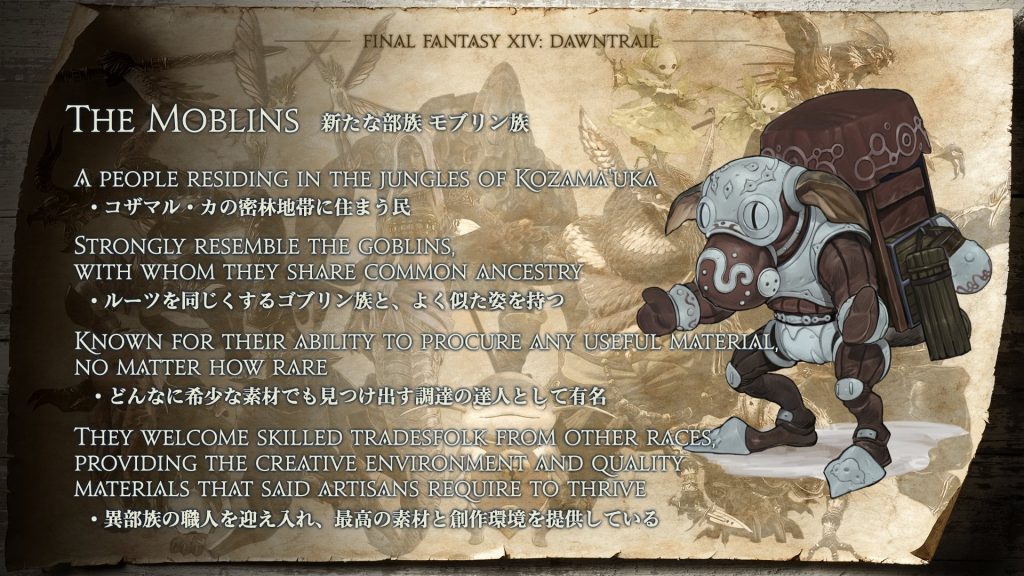 The Moblins live in the Kozama'uka jungles and derive from the same ancestry as Goblins. They're "known for their ability to procure any useful material, no matter how rare," and "welcome skilled tradesfolk from other races."
Final Fantasy 16 Collaboration Event
The London Fan Festival announced multiple collaboration events for Final Fantasy 14, but the most notable was definitely the reveal of the crossover for Square Enix's blockbuster video game from earlier this year, Final Fantasy 16.
The crossover questline will be called "The Path Infernal" and features a number of Final Fantasy 16 cameos and references. The trailer for the event shows a brief snippet of Final Fantasy 16 protagonist Clive Rosfield, and some clips of a battle with FF16's version of Ifrit.
An epic battle isn't all that's coming from this crossover, though, as the trailer shows off a brand new Torgal mount and glamor for Clive's iconic outfit.
"Join Clive Rosfield when the two worlds collide in Patch 6.5x," said Final Fantasy 14 on Twitter. Though there's no official release date for the event, we do know that it will go live before Dawntrail releases in Summer 2024.
New Final Fantasy 11 themed alliance raid series
Final Fantasy 14 is getting another crossover with a different game in the series, Final Fantasy 11. The crossover comes in the form of an alliance raid series titled Echoes of Vana'diel. "Get a glimpse into the expansive world of #FFXI that has celebrated over two decades of adventure," said Final Fantasy 14 on Twitter/X.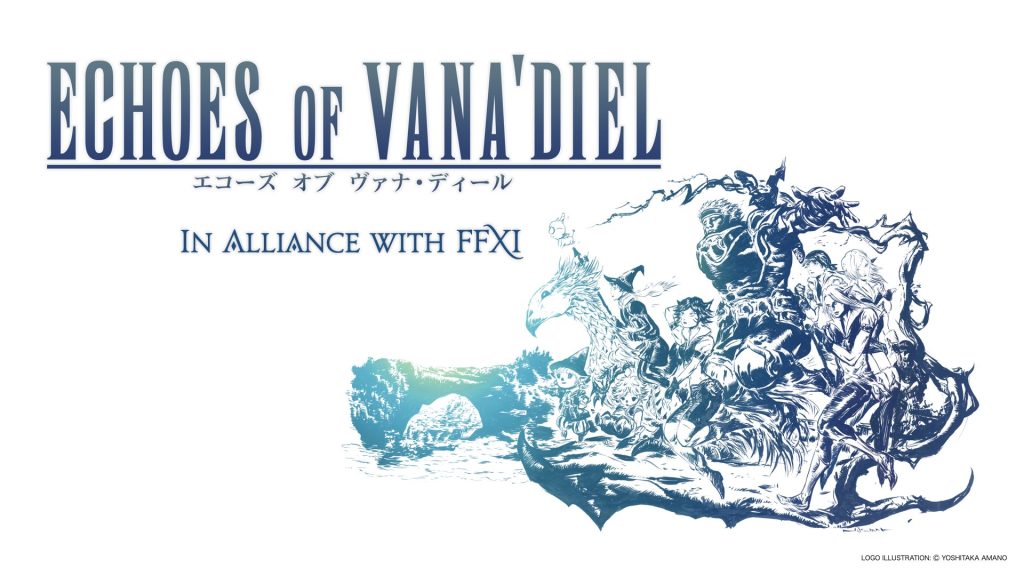 The title suggests that the raid series will explore events/locations from the first Final Fantasy MMO, Final Fantasy 11, as Vana'diel is the name of the world that FF11 takes place in. Echoes of Vana'diel will release with Final Fantasy 14 Dawntrail in Summer 2024. 
Fall Guys collaboration
Moving away from Final Fantasy-themed crossovers, The last collaboration revealed at the London Fan Festival was for none other than Fall Guys. The event was teased at the Vegas Fan Festival in July, but we finally have in-game footage and a release date.
A trailer for the collaboration was posted to Twitter/X with the caption "Take your first step into the Blunderdome with the #FFXIV x Fall Guys collaboration!"
The Blunderdome Fall Guys collaboration will feature a variety of obstacle courses and minigames reminiscent of those seen in Fall Guys proper. It will be available in the Gold Saucer when Patch 6.51 releases on October 31.
Final Fantasy 14 Xbox Open Beta
Xbox players rejoice, as you'll finally get a chance to play Final Fantasy 14 on your preferred console. Square Enix announced the game's upcoming arrival to Xbox a few months ago, and now we finally have a date for when Xbox players will be able to try the game for themselves.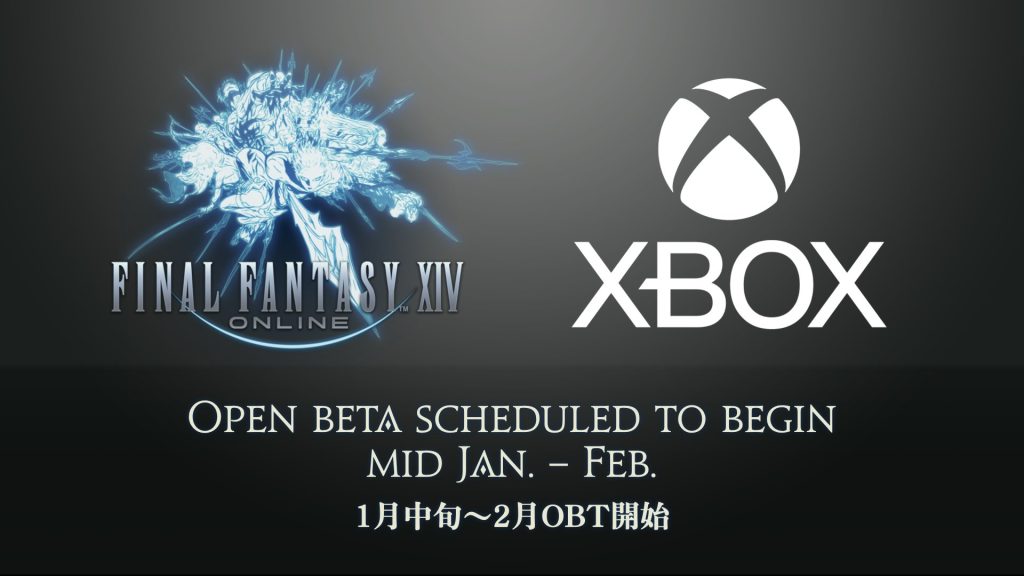 The open beta for Final Fantasy 14 will arrive on Xbox Series X/S in mid-January to February of 2024. We still don't have an official release date for Xbox, but at least anyone interested in diving into Eorzea will be able to give the game a test run soon.
For more information about Final Fantasy 14's upcoming Dawntrail expansion, read our previous article "Final Fantasy 14 Online Announced New 'Dawntrail' Expansion".
Final Fantasy 14: Dawntrail is set to release in Summer 2024.